::MDS* Fashion Flair::
Here comes your weekly retail therapy! Lets live for shopping!
A GALORE for all!
Note: Before you start shopping, we would like to apologise for the technical faults of our website. Sorry for any inconvenience caused.
Enjoy shopping! Do not take too long to mail ur orders, coz ALL OUR PIECES ARE VERY LIMITED! ;)
1. Pretty Vanity
Prints are IN now! Especially loud prints with a sense of subtle in it! This elegant dress stands out on every girl who puts her on because of the detailed lovely prints on it and the turqoise green shade of color! With an empire cut design, it will accentuate a woman's curves without "trying too hard"!
Avalable in 1 piece only!
Measurements: length-87cm, sleeves-41cm, waist(elastic)-27cm
Price: $30.90



2. Viva Victoria
Sold!
Black is simply a very classic colour coupled with lace trimmings it gives this lovely piece a sexy edge. This lace trimmings also give this piece a very Victorian look and which girl does love that classic Victorian look? Viva Victoria!
1 piece only and no re-order!
Price: $25.90



3. Blue Supremacy
sold!
This babydoll sleeve top really makes one look like the sailormoon girl in comics! But with a feel of maturity in it! Match it with white shorts or jeans for a complete look! It comes with a detachable retro brooch around the left chest area to enhance the top!
Available in 1 piece(no re-order)
Measurements: length-57cm
Price: $24.90



4. Cherry Passion
The cherry colour of this lovely piece simply brightens up one's day as it is bright but yet at the same time it brings a tinge of sweetness to the luck one who owns this piece! Although this piece may look simple, the area just above the waist is elastic which gives you a more defined figure!!! Even though it is elastic above the waist, below the elastic band, it is a bit flare so as to accentuate your waist!
1 piece only & no re-order!
Price:$24.90



5. Coral Isle
1 sold! 1 piece left!
Geo loves this dress to bits! Look at the beautiful shades of colors on it! Colors play an important in making a dress look more unique than it really is and this dress is a perfect example!! This lovely piece comes with a belt to tie around your waist area so tt you wont look so "fluffy" and knitted spag strap!
Available in 2 pieces only!
Measurements:length-83cm
Price: $30.90



6. Her Glam
ALL SOLD!
Doesn't everyone just love kimono inspired tops? This piece is simply lovely! It is not too low cut to the extent that you need to wear a tube! It comes with a lovely necklace for you to accessorise!!
2 pieces only!
Price: $26.90



7. Retro-fication
ALL SOLD (email us if u wanna order)
Into RETRO? Make retro a comeback ladies! How nice it is to blend in retro with modern touch of fashion and still look as sexy as ever! This pretty tube top is made from comfy soft material with a sash for u to tie at the back! And the area around the waist is slim fit so it will really define your figure! It comes in 3 lovely colors for u to choose from!
Available in 3 pieces only!
Measurements: length-45cm, width-33cm
Price: $25.90



8. Princess Hours
Pending!
This tube top can be a halter top as well! Change it to your preference! And its made from chiffon material in classic black color. You can wear it for dinners or parties too! Just match with some glam accessories and you will simply alluring! Oh, and its specially imported from korea too!
1 piece only in S size!
Measurements: length-37cm, width-32cm
Price:$32.90



9. Grand Dame
ALL SOLD!! no reorder!!
Wanna flaunt those lovely long legs of yours! This satin shorts will definitely make the guys go "woahhhh"! Because of the bubble design, it will make girls look slimmer, especially the legs! Made from a good quality satin material and gold strips around the waist area, this shorts is high class yet casual enough to be worn out to town! If you want to look chic, just match it with a black patent pointed heels!
Available in 1 black & 1 brown in S size!
Measurements: length-28cm, waist(elastic)-34cm
Price: $32.90



10. Romance in the air
Fetish for chiffon flowy dresses?? Then you really gotta grab this piece!!With feminine and pretty prints all over the dress and blue ribbon as the spag strap, this dress is really suitable for any gentle or demure girl who wants to look even more gentle or lady-like!
1 piece only!
Measurements: length-78cm
Price: $35.90



11. De Beauty
This top is inspired by the butterfly tops which are baggy but is a bit figure hugging at the waist area so as to give this piece definition of shape. This piece comes with a lovely necklace as well to brighten up your look!
Price: $28.90



12. Birds of Paradise
sold!
What a lovely dress which looks exceptionally refreshing to the eye. This lovely dress is bright and colourful with the prints of what paradise is made up of! Wear it with a belt to achieve a more figure hugging look or you can wear it just as it is!
1 piece only!(No re-order)
Price:$32.90



13. Floral Flings
This is another lovely flora dress which is empire cut due to the rubber below the bust area. The lace trimmings below the dress gives the dress the feminine touch but yet not overdoing it. The ribbon design behind the dress differentiates the dress from a normal floral print dress and gives the dress that special touch. You can pair it with belt or wear it as it is!
3 pieces only!(No re-order)
Price:$28.90



14. Oceanic Strips
Pending!
A lovely and simple top with blue strips exclusively imported from Korea! Easy to match with anything on a casual wear day! But yet, the small details on the top like ribbon at the centre makes it extra sweet!
1 piece only!(No re-order)
Measurements: length-42cm, width-30cm
Price: $28.90



15. Bohemian Tale
sold!(No re-order)
As the name suggests, Bohemian Tale tells a story of a girl who is into bohemian fashion. Her fetish and love for Bohemian style like this top! Designed with a really unique front and versatility of wearing it off shoulder , it is an exclusive top specially imported from Korea! One and only piece!
1 piece only!
Measurements: length-46cm
Price: $32.90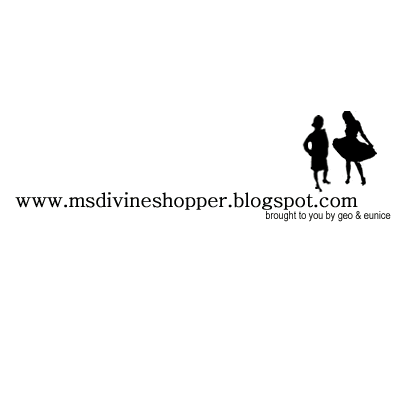 Credits to Geo's dearest pal. ;) Eunice, Cas & Geo say..."THANK YOU".

Please email all orders & enquiries to msdivineshopper@yahoo.com.sg! For convenience, please put "orders" as the subject title, together with the item # & name! And for enquiries, put "enquiries" as the subject title, together with the item # & name! Tank u! ;)